"An astonishing 80 % of all corporations in Europe, the Middle East, and Africa regard talent management as an issue of the utmost importance. The participating institutions see the issue prevailing over the next three to five years. Moreover, nearly half of these corporations rated talent management as an urgent matter."
Personalwirtschaft, 27.08.2010
e.g.: a Hamburg (Germany) based manufacturer
"Come 2014/2015 we are predicting a .66 resignation rate with regard to our manufacturing workforce as well as a .5 resignation within management. Yet, so far nobody attended to these matters!"
As in the example above, many of todays´ organisations are struggling with HR issues in general and with keeping high potential employees within the organization in particular. The severe urgency of acting upon these matters might be best understood when looking at the population changes between 2005 and 2050: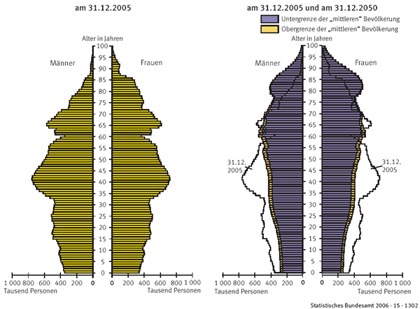 If these numbers are any indication, corporations are soon to be confronted with an aging workforce. Effective change management requires extensive preparation prior to implementing and exercising any adjusted practices. Hence, businesses would be well advised to take preventive measures today.
What does this mean? What areas constitute for change? What options do exist for both companies and employees? What can be done?
Analysis: Which core competencies are required in your organization?
Assessment: What are the core competencies you currently hold in your organization?
Development: What are the core competencies you are capable of developing and how would you do that?
Recruiting: What are the core competencies you must add?
Organization: How would you optimally organize your core competencies?
Building a prospectively functioning and sustainable HR-Management calls for the assessment of an organization's present and future core activities, its structures, and its core positions. Even in the prime of ones years (40+) deliberately preventing ones knowledge and competences from becoming obsolete becomes an issue. Awareness of such typical developmental challenges may facilitate an employee´s ability to ensure ones individual employability by confronting any challenges heads on. On part of the organization a sustainable human resource development can be initiated by paying tribute to an older staff through incorporation of a life phase based approach to HR development. The continuous recruitment of young, professional, high-potential employees is equally important in order to survive on the highly competitive global market. In the race for young high-potential employees it is imperative to be desirable for the main target group. Through the development and application of intelligent instruments, desirability may be guided and moulded.
We will gladly make you an offer and prepare individual solutions for your specific requirements.